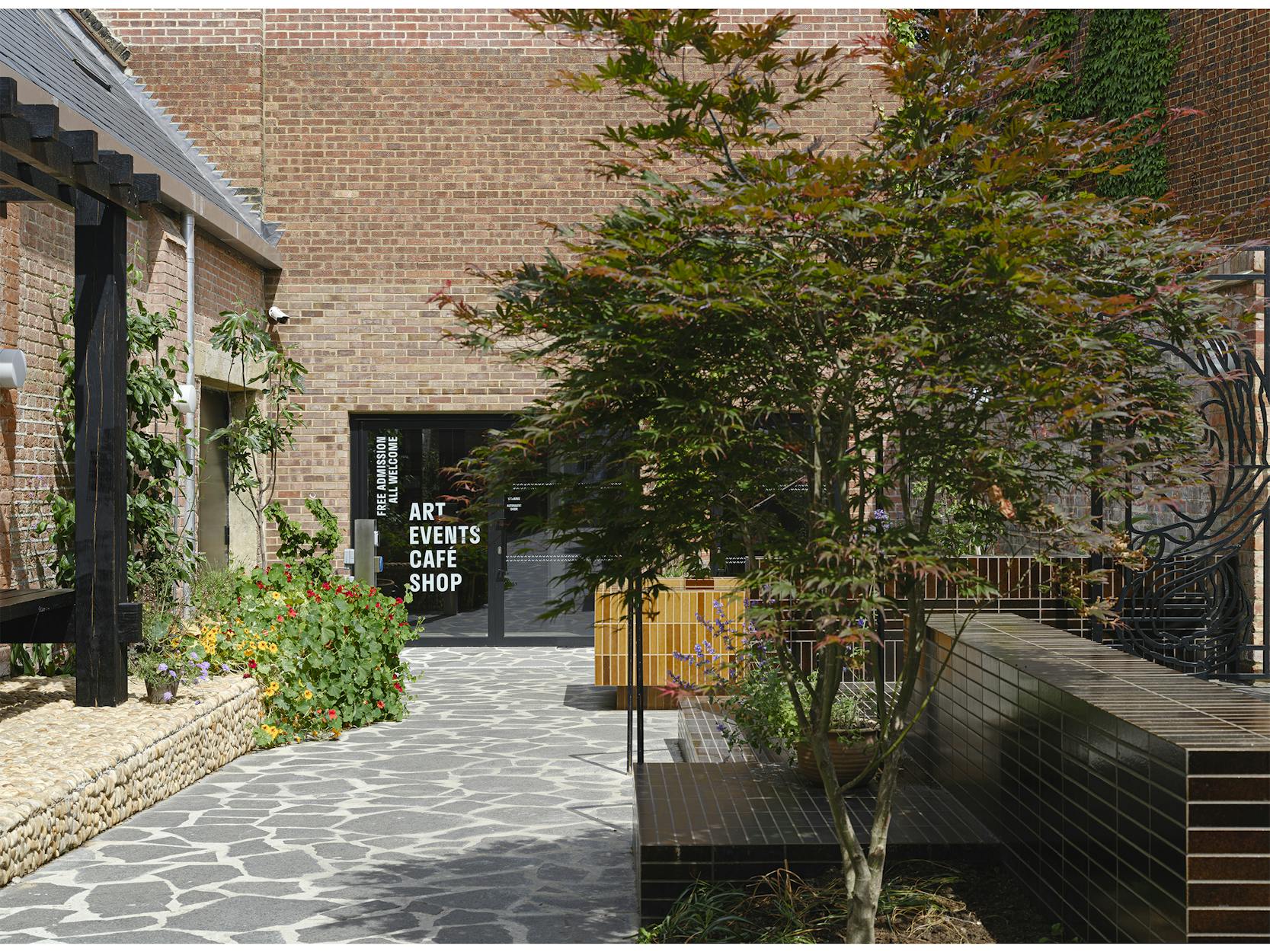 Anthea Hamilton
The Garden
This ambitious project forms a new public entrance to Studio Voltaire.
Anthea Hamilton is a long–term resident of our local area and was inspired by vernacular gardens of South London. Designed to be used by visitors, local residents and onsite artists, the planting scheme combines ornamental flowers and shrubs with edible plants. Organic surfaces with formal structures and tactile finishes complement the garden's raised beds, pergola, seating areas, fountain and tiled walkway.
Artist Nicholas Byrne has been invited by Hamilton to design a gate for the garden, forming a second entrance from the south, which further opens up the garden to our immediate neighbourhood. Subject to the varying growing cycles and life–spans of plants, the garden is a long–term and ongoing commitment that has been made with care and attention.
Anthea Hamilton (b. 1978, London) is a studio holder at Studio Voltaire. She was nominated for the Turner Prize in 2016. Large–scale solo exhibitions have included The Squash at Tate Britain (2018), Anthea Hamilton Reimagines Kettle's Yard at The Hepworth Wakefield (2016) and Lichen! Libido! Chastity! at the SculptureCenter in New York (2015).
Supported by Outset Contemporary Art Fund
With additional support from Dzek.
Anthea Hamilton, The Garden, 2021, a Studio Voltaire commission. Images courtesy of the artist. Photo FRENCH + TYE.

Established in 2003, Outset Contemporary Art Fund is the leading international, independent charity supporting innovative art projects that engage the widest possible audiences. With a presence in nine countries, the charity has raised over £13 million worldwide in support of the creative ecosystem. Outset is recognised for creating influential models of responsive arts philanthropy with its innovative public–private schemes and initiatives.

The charity was the first to introduce a pioneering paradigm of cross-institution collective patronage to fund challenging artistic projects in the UK and is now proud to operate on a global scale. Outset is powered by inspiration, driven by expertise, renowned for its engagement, and focused on effective energy and ideas, with a commitment to being there at the outset of impactful change.