A Night with the Neo Naturists
24 August 2016
A Night with the Neo Naturists celebrated the subversive 1980s performance group, founded by Christine Binnie, Jennifer Binnie and Wilma Johnson. The event took place as part of their retrospective at Studio Voltaire, 2016.
A Night with the Neo Naturists includes film, live performances and music evoking the spirit of the original works' anarchic innocence. This was the Neo Naturists' first live performance with the full original line up of founding members since 1986. They presented a special collaborative performance with Ana da Silva and Gina Birch, founding members and songwriters of The Raincoats with Anne Wood.
The Neo Naturists were part of London's subculture that arose in the aftermath of Punk, the emergence of the New Romantic club scene and advent of Thatcherism. They performed wearing little more than body paint celebrating the naked female form, their performances were "bodypositive" and celebratory, in stark contrast to the increasingly commodified, "sexually packaged" body widely promoted in the 1980s.
The seminal post-punk band The Raincoats last performed at the ICA in 1980. The 'godmothers of grunge' created a sound that, while inspired by punk and rock music that had come before, was uniquely and uncompromisingly powerful and female.
Supporting acts included: Jill Westwood & Antal Nemeth, Christine Binnie & Paul Murphy and a DJ set by Peas in a Pod (Will Larnach-Jones, Joe Scotland & Julie Verhoeven).
Presented in partnership with The ICA, London.
Generously supported by Yana & Stephen Peel.
Additional support from Arts Council England, The Henry Moore Foundation and Thomas Dane.
Read more about the Neo Naturist retrospective
Images from A Night with the Neo Naturists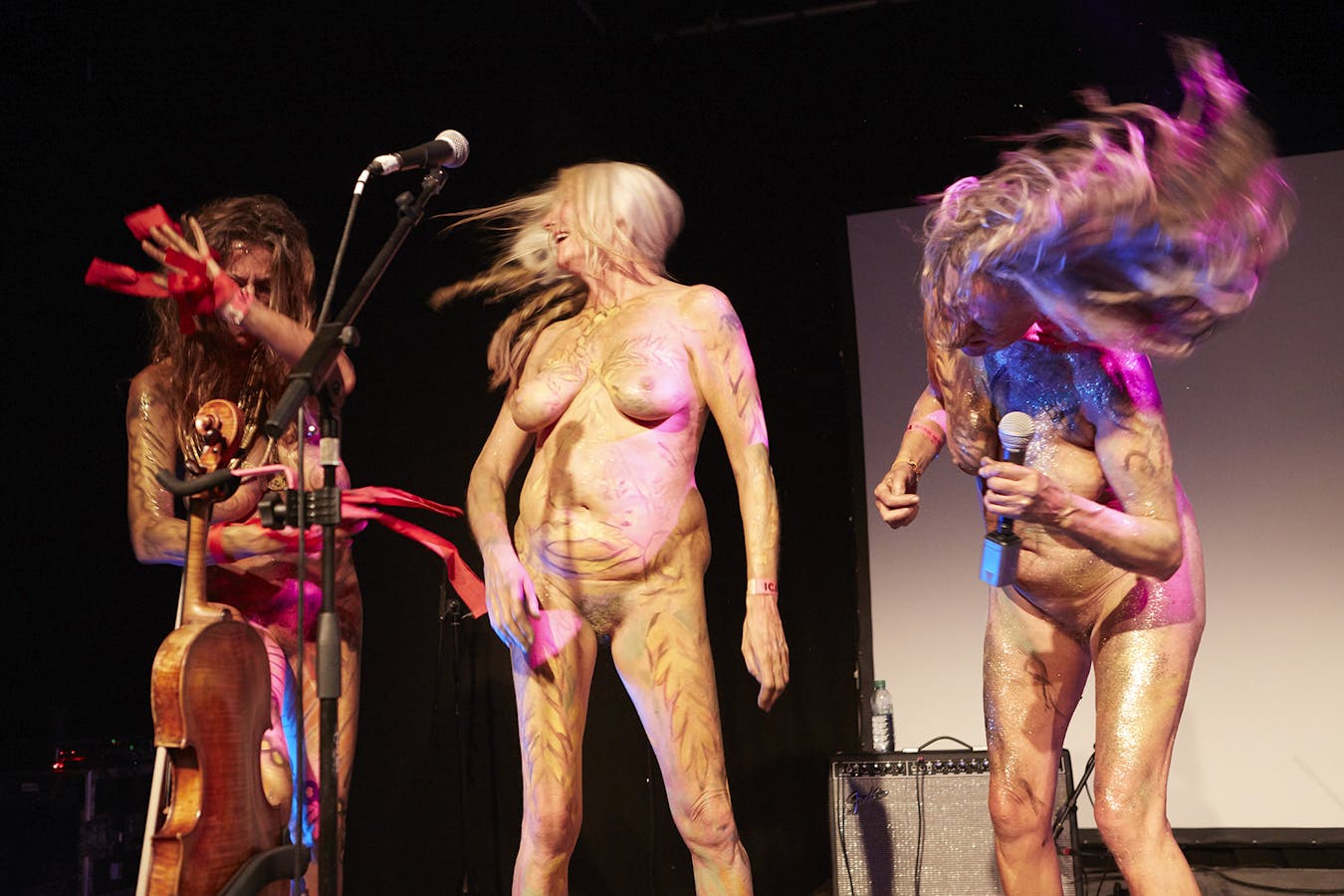 Neo Naturists Exhibition Guide.
Read

The Neo Naturists are a performance art group founded in 1981 by Christine Binnie, Jennifer Binnie and Wilma Johnson.

Performances include: Neo Naturists, Andrew Logan's Alternative Miss World at Olympia, 1981; Flashing in the British Museum, British Museum London, 3 March 1982; Black Rapport Day, Thames Beach Wapping, 17 July 1982; Sexist Crabs, The Zap Club, The Royal Escape, Brighton, 1 June 1983; Swimming and Walking Experiment, Centre Point Fountains, Tottenham Court Road, London, August 1984; Sellotape dresses with Marilyn, Crowndale Road, 1984; Neo Naturist Cheer Leaders, with Leigh Bowery and Michael Clark, Royal Opera House, London, 9 February 1986; and Mother's Day Performance, Cave of Desire presented by Psychic TV, Heaven, London, 5 March 1989.

Adrian Ellis
Andy Keate
Cy Wol
Daniel VG
Esther Bunting
Ian Ani
Jill Rock
Jo Pearce
Katherine Campbell
Keira Greene
Kim Coleman
Melissa MacDonald
Natasha Cox
Paula Nua
Penny Marlow
Rebecca James Shere
Richard Worral
Sivan Lavie
Steve Ritter
Susie Green
Tony Ash

Courtesy of Studio Voltaire, London. Credit Tom Carter.