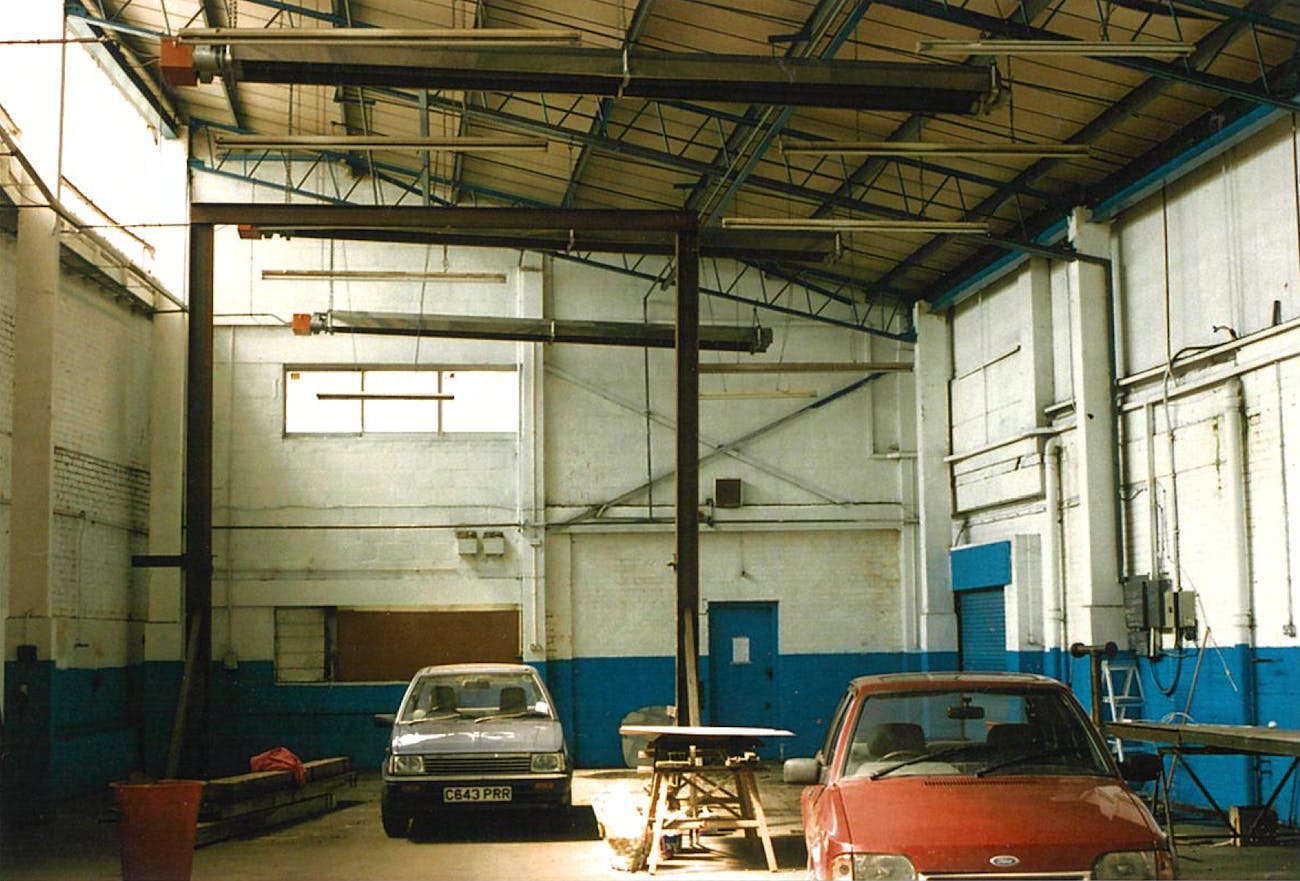 Studio Voltaire was founded in 1994 by a collective of artists and creatives, who set up a studio space in a disused tram shed on Voltaire Road in Clapham. As well as providing affordable workspace, the building hosted a range of exhibitions, symposiums, open studios and parties on an ad hoc basis.
In 1999 the group moved to its current location on Nelsons Row, becoming a registered charity in 2001. The move to a larger site enabled us to expand our provision of affordable studios, offer a dedicated gallery space in a Victorian former mission hall and increase our engagement through community partnerships.
In the early 2000s, the organisation continued as an artist-run space, with studio artists working in the office, volunteering their time and labour, and acting as trustees of the charity. During this period, the gallery provided opportunities for resident studio artists to exhibit their work and welcomed external artists through an open-submission programme and gallery hire opportunities.
Since 2002, we have been committed to delivering wide-reaching education and learning projects. Our work in education and learning is wide-ranging - from artist commissions co-created with communities and schools, to programming festivals with local partners, and providing spatial and artistic resources for local communities and organisations. 
In 2004, the artistic programme was relaunched with TONIGHT!, a large-scale group exhibition of over 50 international and UK-based artists curated by Paul O'Neill. This exhibition signalled a shift towards a more curated programme of commissions and exhibitions. Artists commissioned during this period included Nairy Baghramian, Lali Chetwynd (now Monster Chetwynd), Thea Djordjadze, Anthea Hamilton & Nicholas Byrne, Bod Mellor, Doreen McPherson, Henrik Olesen, Elizabeth Price and Joanne Tatham & Tom O'Sullivan. 
From this immense period of growth and transformation, Studio Voltaire later became the organisation it is today: appointing external staff members and trustees and, in 2010, inaugural Director, Joe Scotland.
From 2011-2013, we transformed our approach to programming through Not Our Class: a unique two–year programme of knowledge sharing, collaboration, research, and practice which took the work of Jo Spence as a starting point for investigating the legacy and potential of her work as it relates contemporary culture and life.
In 2010, Studio Voltaire established House of Voltaire – an influential commissioning and fundraising platform for emerging and established artists, designers, and makers. Beginning as a biennial pop-up store in Mayfair, House of Voltaire quickly grew to cult status and has held international presentations in Miami and Melbourne, partnering with art, design, and fashion institutions including Farfetch, Chloé, Frieze and Matches Fashion. Today, House of Voltaire has a permanent home in our Nelson's Road site. We are deeply proud of our commercial work, having generated over £2 million in funds for Studio Voltaire's artistic and community programmes.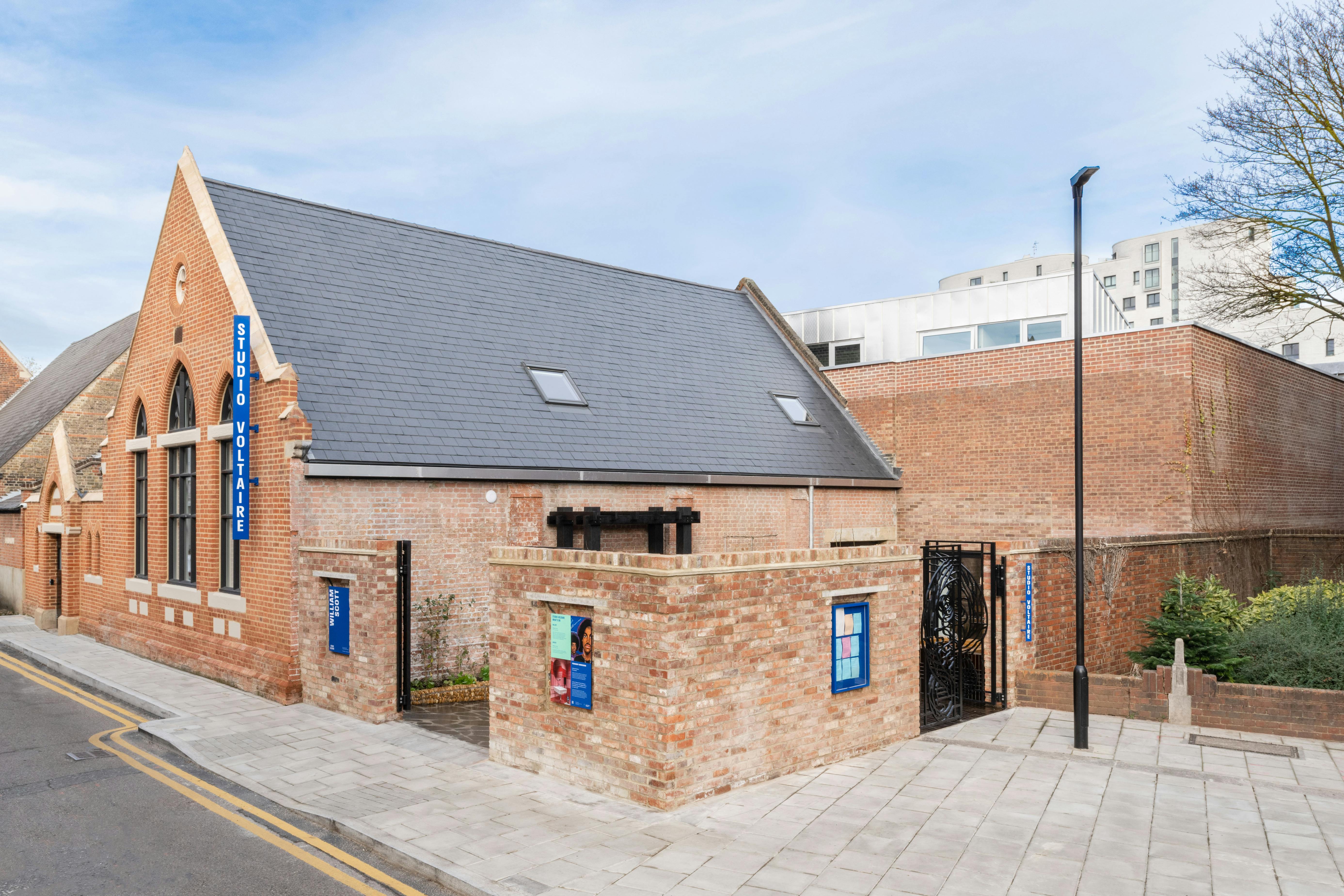 Following a two-year capital redevelopment project from 2019-2021, we expanded and redeveloped our Nelson's Road site. With a remodelled gallery space, permanent artist commissions throughout the building, 42% more artists' studio spaces, a public cafe and garden, a permanent space for House of Voltaire, and additional exhibition and events spaces, this has been our most ambitious transition to date. 
Since our 2021 reopening, we have expanded and transformed our community of artists and our cultural offerings to audiences both local and international. Our programming practices have grown exponentially along with our commitment to audiences, collaborators, and local communities.
We are deeply proud of our unique working practices. Studio Voltaire has always been strongly committed to supporting underrepresented artists and emerging practices, allowing the organisation to offer an alternative and agenda–setting view of contemporary practice.  Embracing grassroots creative processes, risk-taking, and artistic experimentation remain central to our work.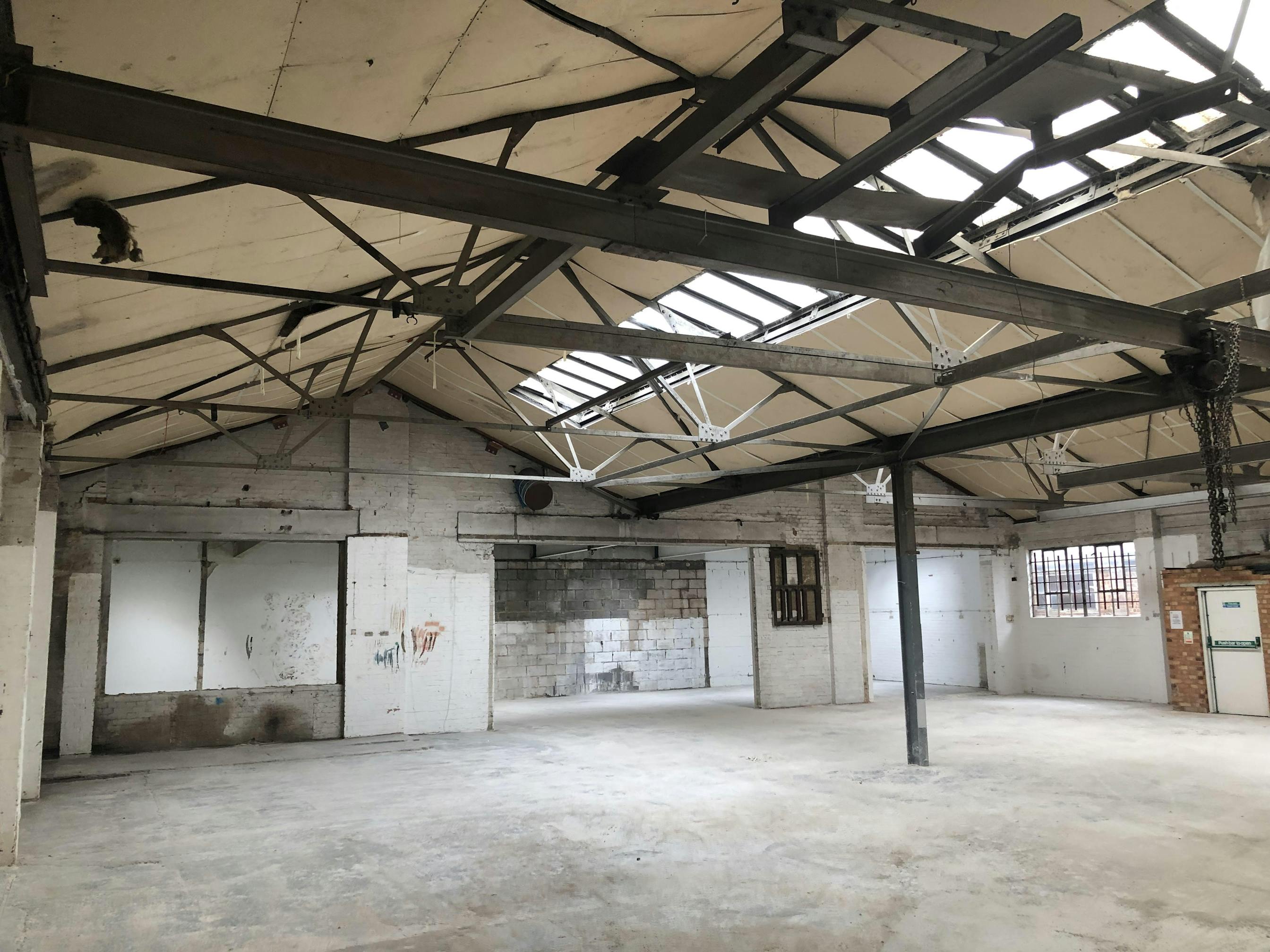 History of our buildings and surroundings
Typical of many London sites, Studio Voltaire's buildings are a combination of different styles and periods of architecture that have been patchworked together over the years and repurposed for different uses.
From 1865 to 1875 our site was a park with a fountain, with a chapel located nearby. In 1874 our adjoining neighbours Clapham Methodist church was built. Erected in 1894, our space, an aneze to the church, was initially used as a Mission Hall and Sunday School to reach the local 'unchurched' and underprivileged.
In the 1910s plans were submitted for building a large ice rink on the site (The 'MIKADO' Rink). The plans were never realised. From the late 1920's our studio spaces housed stone merchants.
In the early 1930's the local authority compulsorily purchased the properties neighbouring our site, replacing them with the William Bonney housing estate which remains in use today. The building started in 1938, however, before construction was completed, the war intervened and bombing destroyed many of the nearby houses.
In 1940, the church was severely bomb-damaged and eventually demolished. Until a replacement was built, services were held in the space now occupied by our gallery. During the war, Studio Voltaire's now gallery also housed many belongings of those who had been 'bombed out.'
In following years, a number of conjoined post-war industrial buildings primarily used as upholstering, engineering and print workshops surrounded the chapel, now forming Studio Voltaire's wider buildings.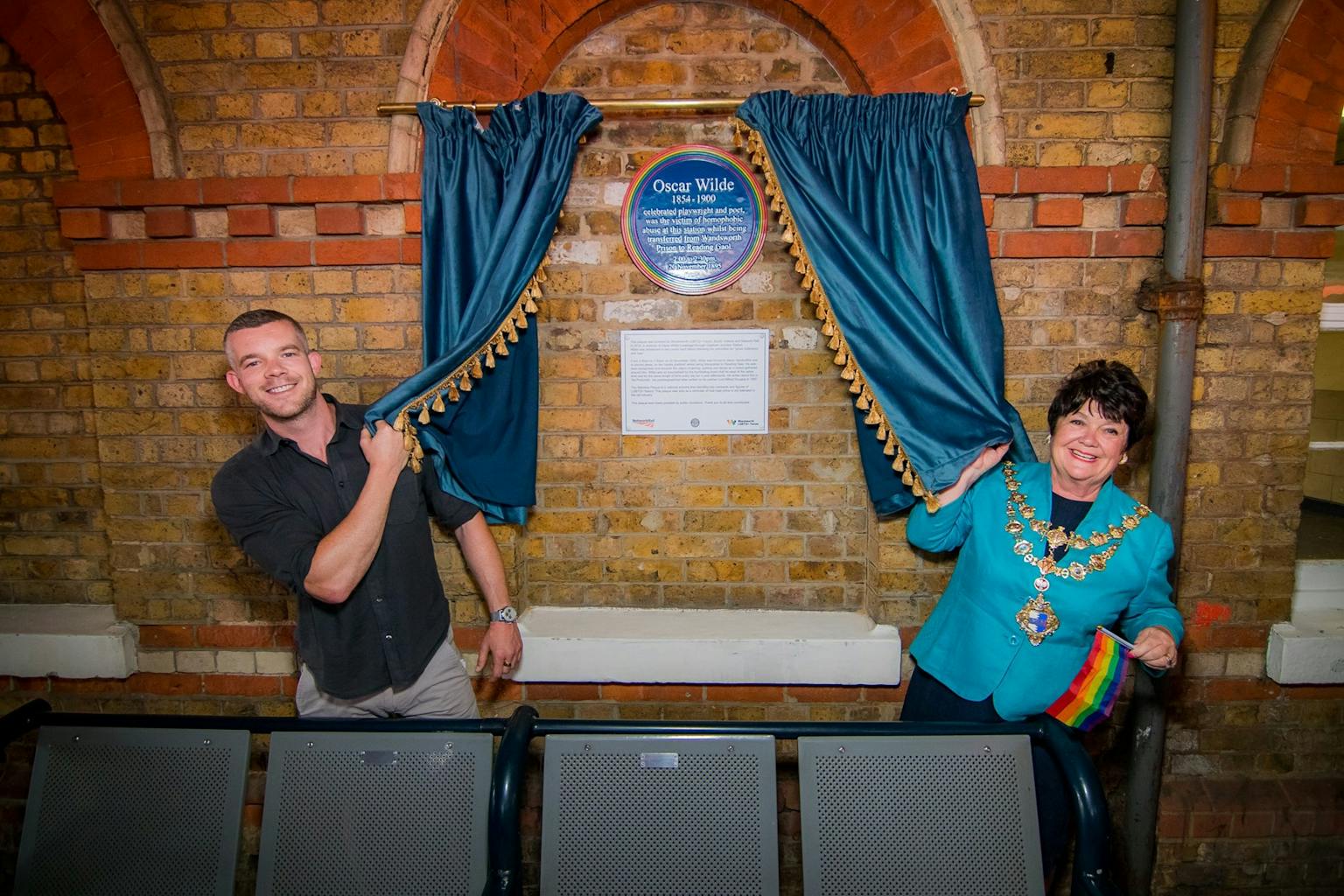 Our Local Area
Although there were many wealthy residents of Clapham in the Victorian era, Nelsons Row became a notorious slum and was noted on Charles Booth's Maps Descriptive of London Poverty, part of a pioneering inquiry into life and labour within the city, as 'very poor' - the second most deprived category outlined in the study.
The areas surrounding Studio Voltaire have a rich social history. The Clapham Sect, a group of early 19th century social reformers who were based in the area, led a sustained campaign supporting both the abolition of slavery movement and reform of the penal system. The roles of William Wilberforce, Zachariah Macaulay and John Venn are acknowledged locally by memorial plaques and street names.
Across various locations in Clapham, a number of circular tunnel entrances of deep level shelters are still visible. First built during the Second World War to shelter civilians, in 1948 they housed 230 settlers from the Empire Windrush as a short–term measure. As the nearest labour exchange to the shelter was Brixton, many of the settlers set up home there, making it one of Britain's first Caribbean communities.
Renowned photographer Harry Jacobs set up a studio on Landor Road in the late 1950's, documenting thousands of people living locally, including many of the Windrush generation and the new Caribbean community living there. Today, the Clapham North deep–level shelter, located nearby to Studio Voltaire, is occupied by Growing Underground, a sustainable hydroponic farm.
Clapham has strong links to LGBTQIA+ histories. As well as being an established site for cruising, the Common hosted Andrew Logan's Alternative Miss World in 1978, and the London Pride festival was held there in 1996 and 1997. The area has also housed important venues such as The Two Brewers, which has been a gay venue since 1981.
In 2005 Jody Dobrowski, a 24 year old assistant bar manager, was murdered on Clapham Common in a homophobic attack. Dobrowski's murder became a landmark case in Britain, where Section 146 of the Criminal Justice Act 2003 was utilised in sentencing the killers, empowering courts to impose tougher sentences for offenses motivated or aggravated by the victim's sexual orientation. Our long-term partner Wandsworth LGBT Forum was one of many forums groups established across London in response to that appalling crime.
In 2019, Wandsworth LGBTQ+ Forum and Studio Voltaire collaborated to install a permanent rainbow plaque at Clapham Junction Station in acknowledgment of the homophobic abuse suffered there by poet and author Oscar Wilde whilst being transported to Reading Gaol. Wilde wrote about the incident in 'De Profundis', his autobiographical letter written to his partner Lord Alfred Douglas in 1897.
Several local sites are associated with important, interconnecting histories relating to women in healthcare and protest.
A pharmacy was opened by Henry Deane at 17 The Pavement in late 1837. In the following century, it was bought by Agnes Borrowman – one of a few female pharmaceutical chemists at the time. She later paired up with Margaret E. Buchanan, and together they ran the business and a pharmaceutical school within the premises that trained and employed only female chemists. Deane & Co became one of the leading centres in the country and, overcoming many of the obstacles facing women at the time, Borrowman became the Pharmaceutical Society's first female examiner in 1924. The store closed in 1986 and the building, with its beautiful hand painted advertisement or 'ghost sign', has since gained Grade II listed status.
Clapham is also the home of Royal Trinity Hospice. Founded in 1891, it is the oldest hospice is the United Kingdom. The hospice has become one of the leading specialist palliative care centres in the UK, annually supporting over 2500 patients onsite and within the community.
In 1916, the South London Hospital for Women and Children opened on Clapham Common. Founded by Eleanor Davies-Colley and Maud Chadburn, two of the earliest women in the UK to practise as surgeons, the hospital employed an all-women's medical staff, and only admitted female patients with the exception of children under 7. At the time, the hospital served the dual purpose of improving medical care for women, and enhancing career prospects for female medical practitioners when many hospitals refused to employ women.
The hospital was closed in 1984, during a period of cuts to the NHS and, from July 1984 to March 1985, the site was occupied by hundreds of women protesting its closure. The occupation began as a 'work in' with staff continuing to work to keep the hospital running, and later developed into a community occupation, with other groups using the space for social and community activities. Groups such as Women Against Pit Closures and women from Greenham Common were also hosted, so they could take part in demonstrations in London.